HI all,
Tonight I'm experiencing some instability on my VenusGX – I noticed some of my ModbusTCP sensors coming and going.
I then went to the VRM portal to open up the remote console, but I keep on getting this error: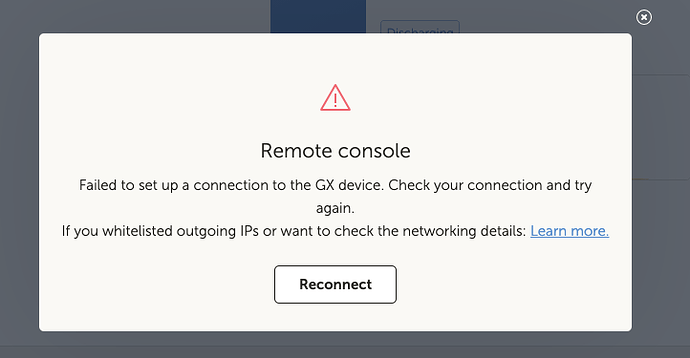 Read up a bit and found out about the http://venus.local/ method, which luckily works. Rebooted the VenusGX but still giving the same error in the VRM portal. I also logged out of the VRM portal and logged in again – same thing.
Is this something that "should" correct by itself, or is there something else I should do/try?
It is connected via Wifi, but I see the signal strength is about 60%. I have actually pulled through a LAN cable to the garage where the whole setup is, so might try to switch from Wifi to ethernet. Unfortunately, the garage seems to be a bit of a deadspot when it comes to Wifi – the alternative is to try and put another Ubiquiti access point there.