I've created a driver for Victron GX devices (anything running VenusOS, like the Raspberry Pi of VenusGX) that interface with a serial battery BMS(something communicating on RS232 or RS485 serial). Bluetooth serial does not work yet, as the Pi's bluetooth is disabled and the VenusGX does not have bluetooth.
I don't sell the BMS and there are no warrantee on the driver. It is free. Gratis.
You can up-vote for your BMS to be added next in the issue list on github
Currently it works with
LLT Power
JBD Battery
Overkill Solar BMS
Daly Smart BMS (from v0.5)
ANT BMS (from v0.6)
MNB spi BMS (from v0.6) - disabled by default as it requires extra libraries installed to work. Contact @Mike Dorsett for information
JKBMS / Heltec
Renogy
These are the values that is populated in the Venus device from the driver. (This is from an LLT BMS. Other BMS's might not have all the data available)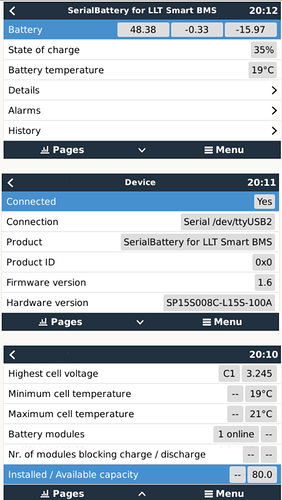 Some items that are available are:
State Of Charge
Voltage
Current
Power
Can handle batteries with from 3 - 32 cells
battery temperature
min/max cell voltages
raise alarms from the BMS
available capacity
history of charge cycles
I'm looking for people willing to help with testing this driver for other BMS like AntBMS and Daly.
What is needed:
If you have a battery that use any of these BMS (or if you have the communications protocol for your BMS) and your battery BMS has either RS232 or RS485 UART for communications.
If you use a Victron GX device or built in GX inverter model or Raspberry Pi with VenusOS
You need serial communications cable / converter for your BMS (VE.Direct or USB). Buy or build your own.
You don't need lots of technical know how, but that might help. (You will need to connect the battery using the serial cable to the GX device and run some Python scripts on there)