Hi all,
I thought I'd start a thread around this service, it's Home Assistant integration, and what I use it for.
I use Home Assistant and a PV system (Victron based), and found the Solcast service and custom component somebody developed for HA extremely useful:
Solar Forecasting & Solar Irradiance Data (solcast.com)
Solcast discussion on Home Assistant Community (home-assistant.io)
It (Solcast's website + the customer component) allows you to:
register a free residential service with your system details (location, AC/DC system side, angles etc.)
submit readings from your system to "tune" their prediction model towards your actual system
request an estimated PV yield for the rest of the day (up to 10 or 20 times a day for residential accounts), taking into account estimated cloud coverage, location, time of day, time of the year etc.
So I use it to boost my geyser's temperature:
when my batteries reach 100%, ask the Solcast sensor for the estimated PV yield left (for my system, for today)
when there's enough, run the geyser for 15 mins. It is a 4kw element, so it uses 1 kWh.
repeat until the geyser is super hot (70 degrees in my case) or there's not enough PV yield left (3 kWh in my case) – that way I get to "store" more of my PV energy and keep the geyser hot for subsequent cloudy days.
Of course, you do not need to use it with a geyser (I had to get the temperature of my geyser into HA too). You can use it to run a borehole, run an aircon, run a crypto miner etc. using your "free" energy.
Here's my forecast for the rest of the day (and tomorrow and the day after):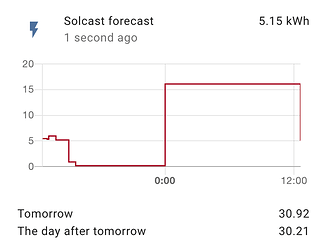 And here's the Solcast website's own forecast graph, and how I "tune" their model to my system: