This morning when I got up, I noticed I had no power. Upon investigating, my MP II showed a red light of inverter overload.
I then had to switch my db to bypass, which brought the power back. I then proceeded to switch the MP II off waited a minute and switch it on again. I then switched back my DB from bypass back to inverter and every thing seems to be fine now.
I then logged into the GX to investigate it seems that at just before 06:00(05:58, according to the alarm) this morning my MP II would overload. If I look at the power usage at that time I was using around 341w see attached image,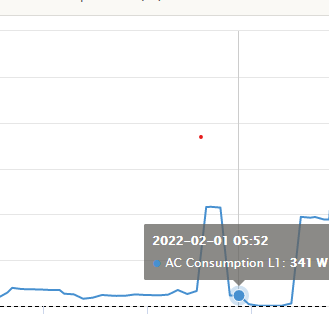 My config was as follows: ESS was active, ie running on battery at that time and I also had the Limit inverter power set, which I run via my GX via a cron job, as to not effect my batteries with high discharge, when the geyser goes on from my timer switch (05:30) early in the morning, but at that stage the geyser was not on, as it showed it stopped heating at around 05:48.
How can I investigate this further, should I be worried? My MP II is just over 3 years old, got it in August 2019, if I remember correctly.