This is a project ive been wanting to tackle for a while.
My geyser happily runs on my inverter, but with the lack of blending its not always ideal.
The SCR does help a lot to keep the load within limits when there are intermittent clouds.
But I have found the need to look at powering the geyser from either the Grid or Solar, specifically on very cloudy days. I can generate enough power to run the house, but not heat my geyser.
This project has gone from overly complicated to overly simplified and everything in between.
It started sometime ago when looking at the below project.
And then reading this post from @Gh3kko
Finally I decided as much as I can solder pins to an ESP8266, I am a novice and im not sure how much soldering I would like to do. Gh3kko's post made me realize contactors could be a very simple solution and wouldnt require any soldering.
The plan was made to "build" this using products of the shelf.
Now pricing on contqactors has become really silly, and picking some that support a mechanical interlock was just crazy.
I somehow stumbled across this
https://www.aliexpress.com/i/4000943742083.html
I found a post on another forum where someone was using them sucessfully. I went looking for some local stock and found a unit that got delivered the next day.
So today I assembled this.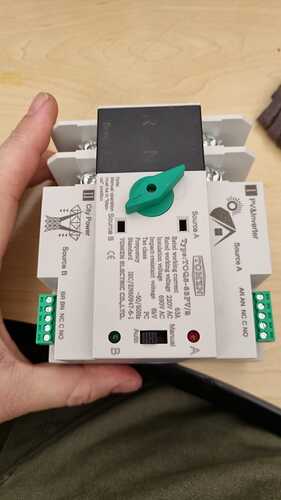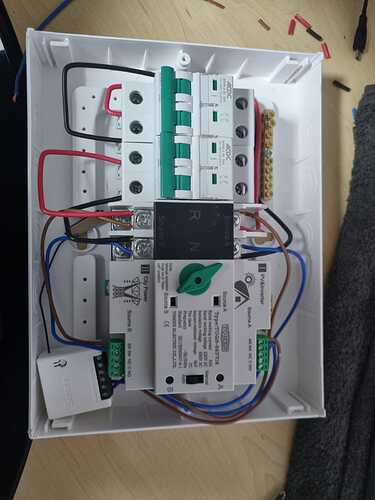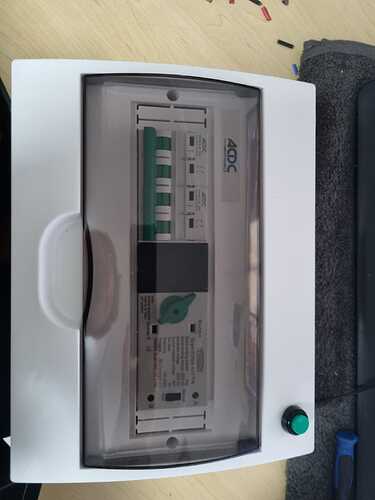 The very distinct green color of the control hardware was very much coincidence and ?I only realised once assembled.
A description of how it works.
Source A (primary) is fed from my inverter, source B(secondary) si fed from Grid (very coincidental that it says "City Power" for anyone in JHB)
I have a sonoff mini fitted inside the DB box that controls the "sense" wire for the primary load side.
So when the sonoff is turned off it switches to Grid and when I turn it on it switches to my Inverter.
Quite practical I think, and all off the shelf components.
I tested it earlier with a light bulb and the response and functionality is quite impressive.