Hi everyone
I'm inheriting a Fronius Primo 5.0-1 with 19x ??? 405w panels installed at our new house. (The current owner has promised to look for invoices to determine exact panels.) They face almost exactly north & east, leaning sliiiiightly east.

The installation is fairly minimal in terms of safety equipment, but it does seem like the two strings are fused on both + & -.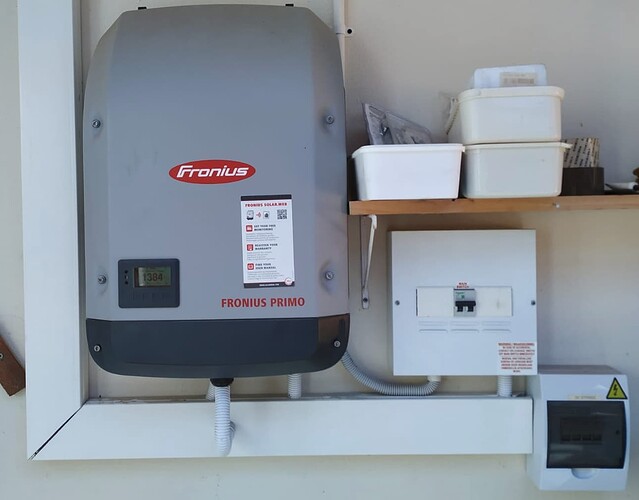 (This is under the blue roof on the left of the top image.)
I think I'd like to add a Victron Multiplus II 48/5000/70-50 with ESS on lithium batteries to help with self-consumption and obviously load-shedding, Fronius on the output.
At this point I'm not sure of the power requirements yet, but there are a couple of aircons and a heat pump for the swimming pool, so splitting the DB will absolutely be required. Our normal use at our current house would be well served by a MP 3000.
What other things do you think I should be considering? We've only moving in Jan, so there's still some planning time.
FWIW, I still have 12x SolarWorld 260W panels in my garage which could look quite good on that right-hand-side roof after the defunct pool tubes have been removed, possibly on a BlueSolar MPPT directly to the batteries. Pity the old 150/70 next to them is no longer supported.