Possibly a question for @Louisvdw, but anyone feel free to chime in.
I want to measure big currents (600A) and I want to be able to switch them on and off.
I want to switch charging and loads off individually depending on conditions.
I intend to have 18 or 19 cells in series.
The functions that I reckon I already have with Victron and my existing gear are:
Temperature low and high cutoff is not critical,(there are has a temp probe options anyway).
I already have HA04 balancers that do up to 20A balancing. ( I'll just overlap every 4th cell with a HA04).
The high voltage charging threshold is settable on the Victron. ( which I prefer)
The low voltage cut off is settable on the Victron. ( which I prefer)
I can see the current and state of charge on a 1000A BMV. (Which I reckon is more accurate than a voltage assessment anyway).
So the functions I don't have are:
I'd like to see cell voltages on Venus, that would be nice.
I need to be able to stop charging for a cell out of balance condition.
I found this little gem, and I want to use the built in facilities to do the switching.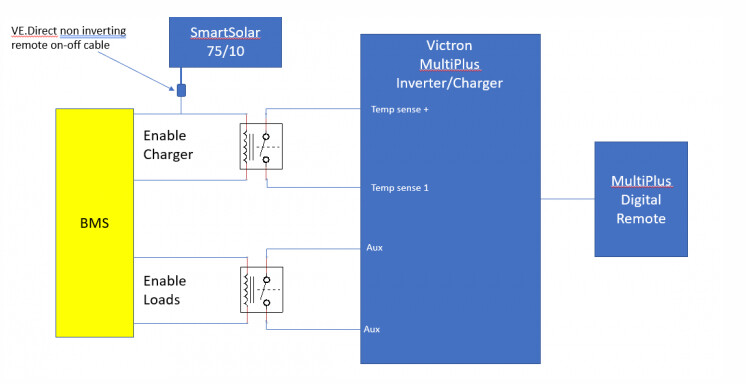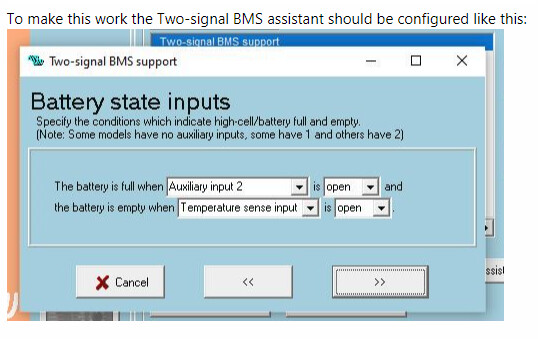 I have two questions:
1.) I have not used a BMS, so my question to all that have used these aftermarket BMS's, is what BMS can show me 20 cell voltages in VRM and has two discrete digital outputs, one to switch off loads and one to switch off charging? I also don't want 600 amps passing through the BMS and I don't want to be forced to use its shunt.
2.) If the above can be satisfied, am I missing something that I still need?