Backstory:
Last year Jaco installed my very nice system. The solar bit comprises a 15 panel NE facing array, and a 6 panel NW facing array. This discussion is about the NW array.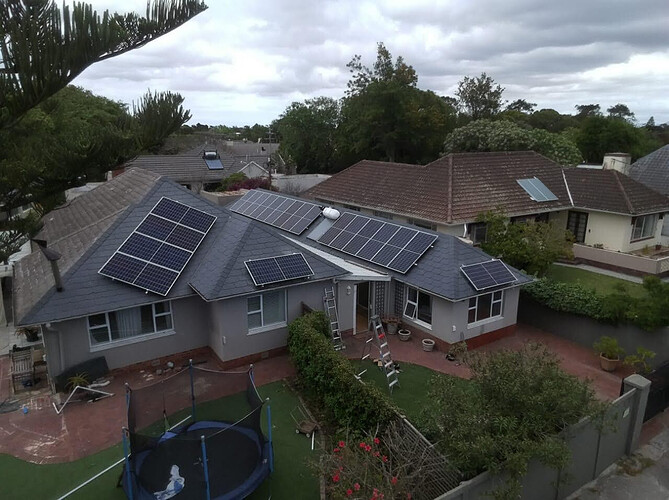 When installed, in October, the PV graph for that array was nice and bell shaped.
Come March, there started to be a dip around lunch time, before returning to a nice peak at around 3 - 4pm:


At first I was concerned; was my MPPT playing up, a wiring issue maybe?
Then I went for a walk outside at 12 one day to see what was up, and saw this guy casting a big-ass shadow over all 6 panels: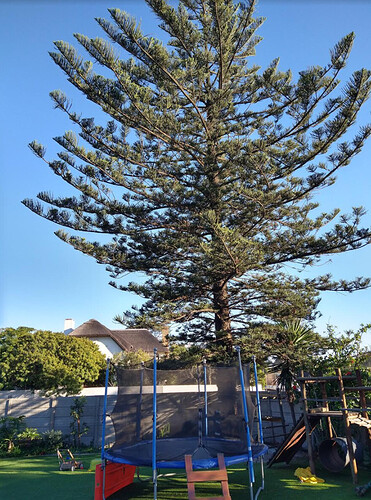 Turns out, as we get closer to winter, the sun has moved in a manner that sends it behind the Christmas tree over the peak period.
So, since neither my wife nor I actually like the Christmas tree, we're going to get it removed, and replace it with a smaller tree (but one that still gives shade to the garden). And, since it's costing me PV production, I can actually work out how much that replacement with "earn" me.
Cost to remove tree: R11000
Cost of new tree: R2000
Total replacement cost: R13000
Now, I can estimate how much PV production the tree is costing me. Eye-balling the graph, I conservatively estimate around 3kWh a day. Since it's autumn, and going to get worse, I'll keep that as a year-round average.
Cost per kWh in CT is currently R2.91, which means I need to generate ~4450kWh to replace the tree, assuming no electricity price hikes.
So, payback period is about 4 years, probably 3 after price hikes are factored in.
And we get a nicer tree (which the kids will be able to climb) into the bargain