I have to use 2 x Zigbees on a farm on the West Coast later this week as the Eskom Pole (Point of Zero) is appr 280 meters from the location where the PV inverters would be mounted. We opted to go with the Zigbee vs trenching and a cable. As I never had the need for using zigbee's, so I was worried that I might stand before the customer with a red face if the Zigbees cant reach 280 meter. Zigbee claims the units can be used up to 1600 meters line of site and I wanted to know if that is true.
I bought 2, (pre configured for Victron) and reconfigured them, One as a "Coordinator" and one as a "Router".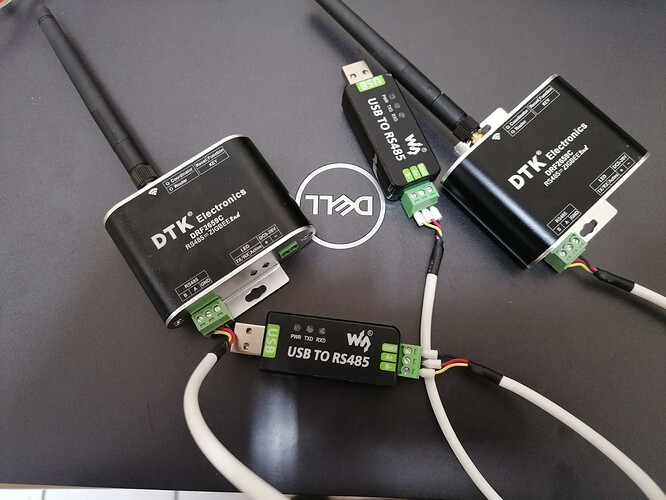 I then hooked one up to a pi in my vehicle (Zigbee out the window) and the other one to my laptop in my wife's car (Also zigbee out the window) and we took a little drive out on a road outside town.
I showed her where to stop and i continued driving. First tested communications at 300 meter, no problem at all, increased the distance in 300 meter intervals, first issues was at 1500 meters, but i soon realised i did not have clear line of site. I moved over to the other side of the road and problem solved, 1800 m no problems as for 2100 m and 2400 m. Every message went through almost instantaneously. 30 bit strings took the longest at roughly .5 to .7 seconds. This was all manual testing and confirmed over the phone. I did not try high volumes of data so dont know how it will stand up to high volumes, but know that i could not type fast enough to cause a delay.
I saw a terrible decline in the numbers of successful messages at about 2700 meter, only every second message went through…
I will report back on higher volume after my installation next week.
Lets say my speedo was out with 10%. I still had very decent communications up to 2km.
EDIT: @plonkster, thanks for sharing your knowledge as usual.