Hi all, so my new Multiplus II and BlueNova RacPower have been running for just over a week. I don't have any PV yet, waiting for delivery of solar panels. Over the weekend I installed ESS to get a feel for it for when my panels do finally arrive. ESS is set to keep charged.
Ever since then I have an odd LED display on the Multiplus when normal power is on and the battery is charging, the mains on and absorption LED's are on solid and the inverter on LED is flashing. Occasionally the inverter on LED goes off and on other occasions it stays on solid for a few seconds and then resumes the flashing.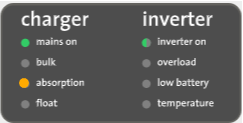 I have the Victron toolkit app but this combo does not appear in the LED definitions. Any ideas please?