Hi,
I have a Multiplus II 5kVA unit (hardware revision 5, configured as part of an ESS system) that is reporting temperature warnings from time to time. Below is the screenshot of the VE.Bus Warnings and Alarms for the past 30 days: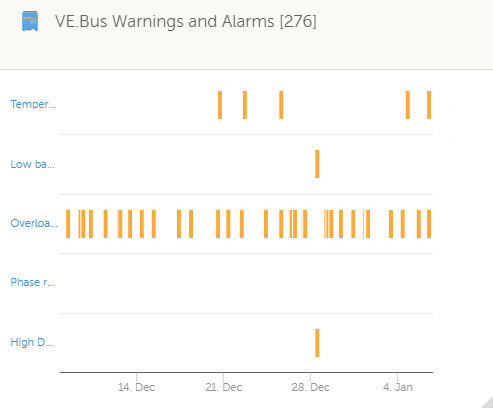 The highest ambient has ever been is 34C, but it hovers around 30C on most days. Airflow around the Multi is not obstructed: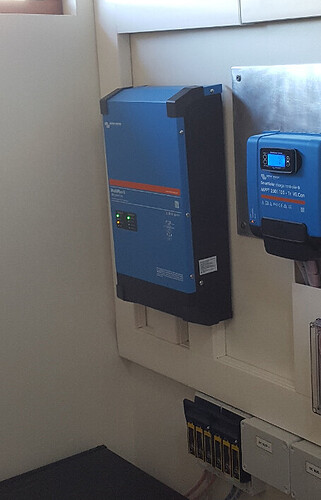 The warnings coincide with heavy loads either at the input or output side, and it running at capacity. I find that it derates to 3700W very soon after a heavy load (e.g. geyser) is switched on. I've never seen it derate lower than 3700W though. The fan turns on whenever the load exceeds about 1kW, which is most of the time. When the fan is blowing I can feel a slight draft at the intake vents at the bottom but the airflow at the top exhaust is barely perceptible. The top exhaust grille also feels very hot to the touch under load - almost too hot to touch, so I guess close to 60C.
Is what I'm seeing normal, or is something amiss?
Thanks!
P.S. Something else that bothers me is the barrage of overload warnings being logged. The grid is (almost) always available, so there should be no reason for it to go into overload.
P.P.S. Ignore the low battery and DC ripple warnings - the batteries were temporarily disconnected during a firmware update to revision 478 (the latest).