Sooooo, little awkward I plugged in a lead light I use in the garage today and as I did the power went off completely and the garage breaker had tripped.
Inverter (multigrid 3000VA) was making a few clicking sounds like when it reconnects to the grid however was giving error VE.Bus Error 11 failing step 6 then repeated. Zero power being passed though or inverted.
Error lights Float light on and then alternating between bulk and inverter on (VE.Bus Error 11 relay test fault according to the Victron app
If I turn off the mains in then it goes into inverting mode and seems to work 100%, if I switch on then it repeats…
Current error (not it reads #8 was 231 earlier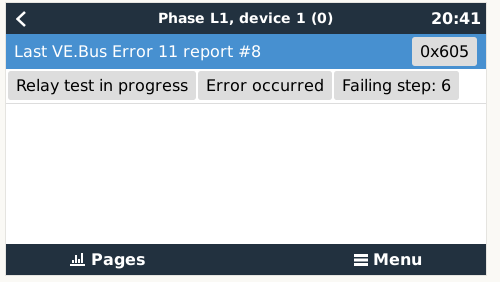 Little bit of history I believe this is 2nd had inverter (Installer gave it at a discount) and I noted it had the same error (as the ve buss saves last error) Error 11 report #200 failed step 6 0x605 do you think its related, been in flawless service for 3-4 months now
Any hope?