I recently decided to upgrade my network at home. I threw out all my old 100mbps network switches and had to decide what to use in its place. After a lot of consideration I decided on UltraLan switches.
I think that they are some of the most cost effective switches currently out there. if you buy a 4 port or 8 port or what ever size switch, there is always two extra ports to be used as "Uplink" ports. So from my router to the uplink port of the first switch and then from the second port to the first uplink port of the second switch. Used one port from the router, and from there distributed my LAN network to two 8Port switches in my home, and the nice part is, I had 8 usable ports left on each switch after I connected my network.
All 8 ports are POE ports, not like most other 8 Port switches that have 4 normal and 4 POE ports.
All of this for under R1200. I think that is great value, unless someone else here knows of a better deal.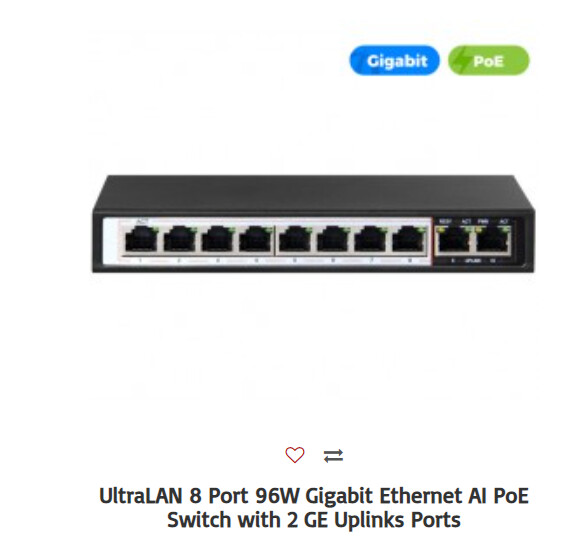 The best part for me, the switches uses a 52Volt DC supply, I connected both to get power directly from my Inverters DC-bus, so even if my inverter switches off, I can still remotely connect to my home network, see all my POE powered cameras and my Venus. A secondary 12Volt DC-bus (Victron Orion 48-12V) powers my HA Nuc, router, Outside Dish as well as my Alarm System (removed the battery)
My goal is to keep all security and monitoring equipment live and accessible at all times. (Battery failure excluded)