At that price my guess is that they are 2nd life cells.
They use SVolts cells. Svolt seems to be a reputable company.
SVolt has agreements with a few EV makers for supply. I agree, they do seem to be a very good choice that will likely make big inroads in solar and other applications.
Good to know!
It's about time the battery manufacturer/assemblers in this market reveal which cells they use. This is really what matters IMHO.
appears to EVPS cells. No idea whether this is good/bad news.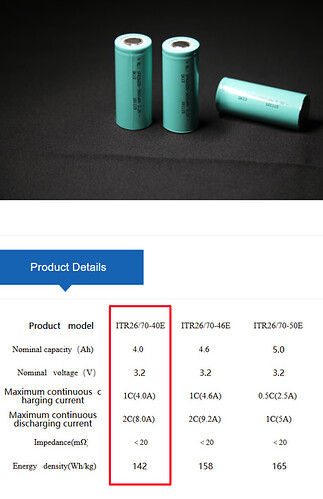 There are a number of 'branded' products that claim specifications that are a lie.
This 7Ah battery is one of them which casts doubts on all products with this brand.
Another one is GAmistar. See: https://electromannsa.co.za/product/gamistar-12v-30a-intelligent-pulse-charger/
They are marketed by many outlets but when you request clarification or any documentation it isn't forthcoming.
These products exploit people's lack of knowledge and they believe that if the label claims a specification then it has to be true.

Assuming the battery contained what looks like only 4 cells according to your photo, I guess you could ask the supplier to rectify the matter (i.e. supplier provides you with a refund and you provide what is left of the battery…). If supplier is unwilling to assist can always name and shame.
It might be of use to others to include the weight of the ConderEnergy 7Ah battery and the actual vs claimed capacity. This could possibly help others spot obvious problem batteries without having to dismantle them. This assumes there is not much other filler material in the case.
Since google will probably index this page at some stage it might come up if other people do research about this particular battery (ConderEnergy 7Ah)
If it were me I would at least in this thread have a post that specifies:
Branded as ConderEnergy
Claimed capacity 7Ah 89.6Wh
Found to only contain 4 x 12.8Wh cells meaning maximum capacity of only 51.2Wh
Lastly, these ConderEnergy 7Ah batteries seem to retail or about R599 - that should definitely ring some alarm bells. Exchange rate etc, and looking at similar batteries selling price under R800 is highly questionable.
Final lastly, @mmaritz not sure if we can edit thread titles? (EDIT looks like we can). @Richard_Mackay I suggest correcting the thread title as google currently picks up on the incorrect brand name since the thread title and first post refers to Conderergy - the problematic battery is branded ConderEnergy.
Title Edited

I have dealt with this supplier for some time so I will contact them and see what their response is. I am interested if they are aware of the scam or not. I think any reputable company needs to be aware of any misrepresentation. (Even their invoice slip states 7Ah capacity)
So I phoned first and it appears they aren't aware of this issue. I requested to speak to the boss but was given his email instead.
So an email has been sent…
And one week later still no response.
So next time I'm there I'll ask some questions again about this product…
Return the battery and ask questions directly…
I can do but my issue is with outlets misrepresenting what they are selling.
This battery sell for R450 which is getting on 40% off the kosher one.
They could simply sell it at that price and come clean about the capacity!
I did this having cornered the main battery man in the shop: No denial really but they find lead acid batts are even worse wrt their capacity claims. I can't argue with that observation


PS: There are now signs in AC-DC shops stating that there is no warranty on lead acid batteries!
Did you get a refund on the terrible battery he sold you?
No. I'm doing tests on it to see how it performs.
As I mentioned SLA batteries is iets van die verlede…
(So we've got to roll with the punches)
Does anyone remember the claimed frequency response of tape recorders (mostly using the Compact Cassette)?
We eventually worked out that the this was inversely proportional to the price