As many know I am a fan of contactors over Mosfets.
I am also in the market for a very high current capacity BMS.
Now @TheTerribleTriplet had a candidate that ticked many boxes…
But it didn't differentiate between charging and discharging, it had one contactor that switched off both charging and discharging simultaneously.
For example, for a battery overvoltage condition, the battery would be switched out when really charging should have been stopped and discharging allowed to continue.
The corollary is desired for an under-voltage condition.
JK BMS has now introduced a BMS with 2A or 5A active balancing, that has an external shunt and can control 3 external contactors independently.
Pre-charge
Charge
Discharge
It has BT IOS/Android app, CAN and RS485 ports, temp. probes etc.
It is rated continuous at 500A, but I think that is just a shunt and contactor limitation. These are all external so could be potentially exchanged for higher current doodads.
( caveat: I don't know what the app limitations are above 500A- looks like 600A max setting).
Typically balance leads all have to be the same length, this BMS allows the balance leads to be resistance calibrated. So balance cable wiring management is improved.

Not cheap: JK BMS 1A 2A 5A Balance Current 8S 12S 13S 14S 16S 17S 20S 24S Smart JK Bms 60A 80A 100A 150A 200A 600A Lifepo4 Li Ion Battery|Battery Accessories & Charger Accessories| - AliExpress
I think the 2A active balancing is sufficient.
External contactors purchased separately here:
The manufacturer's bench set up:
( I don't see why the pre-charge contactor has to be as big as this).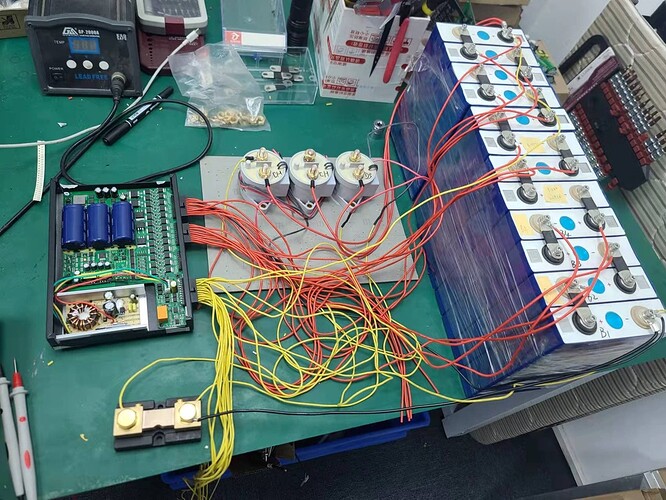 This unfortunately the best circuit diagram I could find: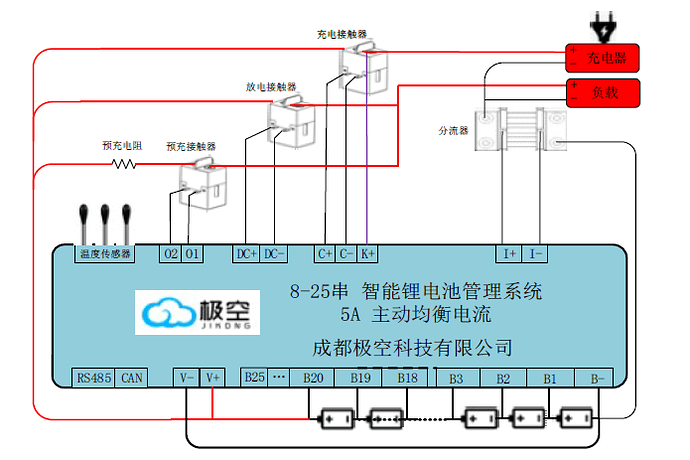 The 3 suitcase looking things are contactors and the red boxes represent the charger and load respectively.