Hey Guys,
Just some pics of the progress on my batteries and inverter installation.
Firstly my father-in-law and I put some casters on the battery cabinet and inverter to help with moving them.

This is the cupboard at the start - definitely needing some TLC.

After tiling to match the tiles in our passage way:

I removed the shelves to make space for a more sturdy shelf to put the inverter on - emphasis on STURDY - this Powerstar is really heavy!

Kallie Geldenhuys did the wiring to the DB, but the inverter had a problem so it needed to go to MLT Drives to be repaired:

Deon van Rooi made this frame for me to secure the new shelf: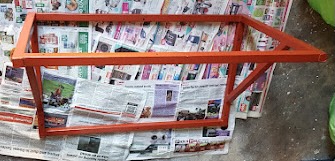 The shelf is in and the Powerstar is back from MLT Drives and working great.

Lastly, I put in a length of angle iron, just to be sure that the inverter can't be rolled off the front of the shelf.

Thanks to everyone that helped me with this project. A big thank-you to @JN.V for letting me know about the advert for the Pylontech batteries, and to @Gman, @JacoDeJongh, @Stanley for all the advice and discussions.
I am also very grateful to MLT Drives and Kallie for the support in repairing and installing the inverter, and to Deon for making the iron frame to support the shelf.
A special thanks again to @Gman and @JacoDeJongh for your efforts to come out and help me - I really appreciate all that you both did to help.
In short, thanks everyone for the help!


Next on the to-do list … solar panels!