Well to be honest, the TH16 with the eWeLink firmware should give you the temperature reading out of the box. Closest to plug-and-play you can get without going something like a Geyserwise.
I went a different route with my Apollo solar geyser. It came with a really cheap probe and temperature reading which had zero intelligence (it was literally just click the on-button, wait until it shows the temperature and turn it off again).
Not wanting to mess with the geyser and stick in my own probe, I decided to focus on the existing temperature probe until I could figure out how it works.
Eventually narrowed it down to a NTC thermistor. Bought a D1 Pro (which has a barrel socket and runs directly from a normal 12v PSU), built a voltage divider, connected it to the D1's A0 (analog) input, put ESPHome on it and calibrated it by borrowing another probe from the installer and testing different water (tap, refrigerated and boiled water) temperatures with the other probe and another thermometer.
It might not be super accurate (hell and it is even quite noisy) but it is enough for me to know if I need to worry about cold water tonight. And I just left the original probe in the geyser where the installer fit it.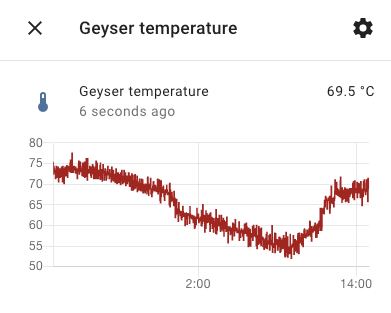 I did run it through a low pass filter in home assistant (basically a moving average) which gives a slightly better signal: