What are the opinions on the bulging of Lifepo4 cells?
My cells were paid for on 17 March 2020. In Apr 2021 my cells went out of whack.
Thinking back, it was actually ±Jan 2021 when I found the box they were in was being distorted, but the penny never dropped.
Penny dropped when I saw two cells this weekend, on a 100% balanced bank for months, starting to "shoot out" ito voltages, thereby affecting the charging. Only saw that cause I had a BMV which gave a different SOC than the BMS, causing the power from the panels being immensely reduced. See here: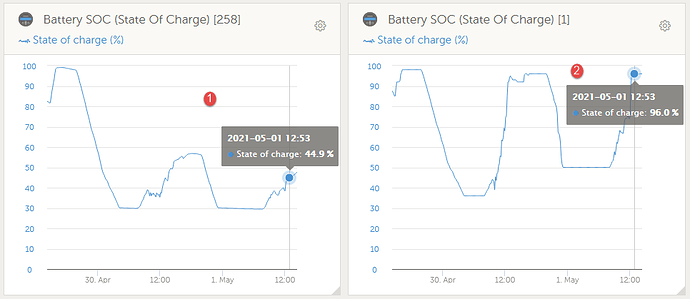 So I emailed the supplier asking:
I followed your instructions ito charging to the letter, never over 3.5v and 60amps on the 150ah cells, and now it seems I have a cell, possibly 2, that are slightly starting to bulge.

I vaguely recall 2/3 years … is there still a warranty on the cells?
Their reply:
Bulging is normal. Thats why all battery manufacturers clamp the cells together. The bulging is just because of gasses. It must be clamped together because the electrolyte lies in the buldge and this reduced capacity, performance and life.
Being TTT, I don't just say yes:
Yes, I read a lot about bulging and the dangers if not carefully monitored.

If one has a BMS and one has never over-charged them and never at too high volts consistently, then bulging cells are a sign of a manufacturing defect

Methinks it is a dud cell, or two.

Re. clamping the cells together, the only reason that is required is to stop the cells from moving when in say a vehicle for example. Cells moving can cause internal stresses/damage when the busbars are put under stress. Can also cause the nuts to loosen. No other reason for binding them together, definitely not to keep them from not bulging.

More importantly, one must keep in mind that cells tightly bound together do not allow for excellent heat dissipation between the cells. I have 2nd Life cells on my desk in their original holders. There are spaces between the cells as the holders keep the batts firmly in place. That helps a lot with keeping all the cells cooler.

And then there is the quality of the cells. One can pay $50 for a cell or $100 for the same ah cell.

Bulging cells are a risk and the cause must be determined before a cell becomes a serious problem.

The above is from months of reading up about it all.

See, the idea of paying for lithium's cells because of their claimed cycles is quite an important factor. I don't see this bulging cell lasting the claimed cycles.

Is there still a warranty IF the cell/s gets worse?
Still waiting on the last question.
Any thoughts anyone?