Backstory: We have 2 small toddlers, who recently moved into a room together.
They still need night-lights, and will at some stage need reading lights. In addition to this, we're trying to get them to not get out of bed and come through to our room at 5:30am (ie as soon as the sun is up in summer).
There are, obviously, many sensible solutions to these problems that don't involve Banggood orders, soldering, individually addressable LEDs, and Home Assistant; but where's the fun in that?
Ordered some WS2812b LED strips (as well as some LED mountings) off Banggood, and used a D1 mini running Esphome as a controller. Stuck it all in a switch box with a dimmer switch acting as a physical push button.

(Apologies in advance for potato quality photos, turns out it's difficult to photograph LEDs with a phone).
Can act as a normal light (single press of the switch):

Or a night light (kinda light yellow, just barely lit; either via a HA automation at 6:30pm, or a double press of the switch):

Then (and this is the bit I like most), at 6:30am a HA automation turns the lights green. Then the kids know it's time to get up and they can come through. Surprisingly, this has had a >80% success rate so far

As a bonus, if you triple-press the switch, you get a dance party

:
(if embedded gif doesn't work: https://photos.app.goo.gl/NHGN1gvnpcn6Goku5)
The lights are completely controllable through HA (used the RGB card here, which makes it easier):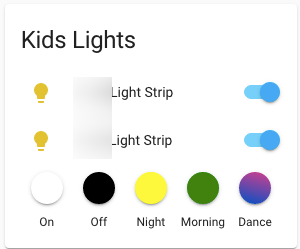 Very pleased with how it turned out though the next project, the lights in our guest room, will have some changes:
More hidden cabling
Different switches (though I haven't solved this yet, toggle switches seem really difficult to find, and 3x the price of a normal one…)