This may be applicable to Goodwes, maybe more general. I don't know. I share it here as a lesson learned and that somebody may not have to learn in future. And maybe because somebody who really understands the Goodwe ES inverters may offer corrections & further enlightenment.
Saturday morning we had an early morning outage (not load shedding). Round about 9AM. It was a clear, sunny day, but look…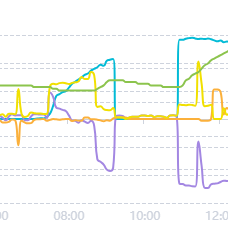 If you're not familiar with SEMS portal, the blue line is PV being drawn from the panels, green line is SOC, orange line is load.
PV drops just as the outage begins. You can't see the blue line because it is on the zero axis, behind other lines.
Now I have for some time run my Goodwe in "Eco" mode. This allows you to set time slots during which the battery will discharge or charge. I have it set for one charge slot - 15:00 to 16:00. This so that on overcast days my battery gets an afternoon charge and I am good for the evening.
So the first thing I checked was the front panel of the Goodwe. This has an LED to show if either of the PV strings is active. It was burning a solid blue - so it could "see" both strings. I checked the Goodwe app - it showed 250 odd volts on each string, but no current.
OK… this should have led me away from the path that I was about to follow but I
Turned both the PV breakers off (LED went out).
Checked the fuses with a multimeter - they are good.
Replaced the fuses, checking they were located correctly.
Turned the breakers both on.
Well maybe it's going to kick start something. But it didn't. The app still reported 250 odd volts and no current. The LED still burned., No PV was being drawn.
At this point I start googling for after hours PV troubleshooters. There don't see to be any. So now what?
Had I played with any settings lately? No. This is against my religion. I don't touch that stuff. Also the Freedom Won BMS will override any changes I make on the battery side (spoil sports!).
So I changed the mode from "eco" to "off grid" because, really, I am off grid.
Bingo! It starts drawing PV and charging the batteries again.
In for a penny, in for a pound. I now changed it back to "general" mode. In this mode it uses PV, battery, grid in that order. Now when the grid comes back the inverter will know and can use it if it needs to.
But now I started thinking back to another recent incident. Thursday just gone.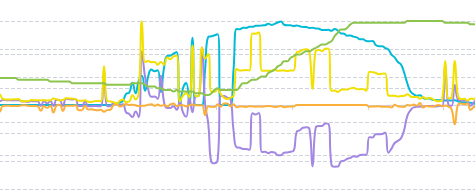 So now the PV is up and down and the battery is actually discharging more than it is charging. I checked the Goodwe app, and the incoming voltage is low. Alternating between mid 180s and low 200s. The Goodwe, with safety code set to "South Africa", disconnects from the grid at around 195V. It reconnects at about 200. The change I made here was to switch it to the "50Hz default" safety code. Set like this, the Goodwe doesn't care what's coming in as long as it's above 170 and it's at 50Hz. You can see the problem going away.
So I should have put two and two together here: When the inverter is in eco mode, when the time is not within a charge slot, and when it doesn't accept or get any grid input, it doesn't take any PV, no matter how much is available.
Later in the day, with voltage back but still low, I changed safety code to "South Africa" and inverter mode to "eco". Straight away the PV drops to zero (inverter not getting any grid power).
I then put the inverter back into "general" mode and turned off the main breaker for the property. The drawing of PV was unaffected.
This was still strange to me, because I had the inverter stuck in eco mode with that single 15:00 to 16:00 charge slot for over a year. But looking back through the history on SEMS I found smoking guns. Like this one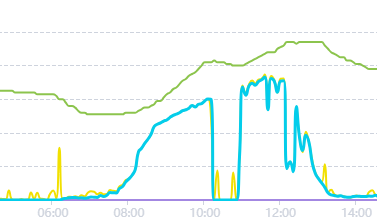 Conclusion: If the following conditions are in place
Inverter in eco mode
The time of day is outside of a charge time as per eco mode
No grid coming into inverter (for whatever reason)
Then the inverter will not draw any PV. Possibly until a charge cycle/time slot is entered.
So I am leaving my Goodwe inverter in general mode, unless I have to charge from grid.
I had left it stuck in eco mode because you can change modes remotely, it's a security blanket, and because I was too lazy to change the mode every day.