OK this is driving me nuts.
My solar geyser element is controlled via a contactor which, in turn, is switched on and off via a Sonoff Basic, running Tasmota.
It works well for most days. But recently I've started losing connection quite a bit.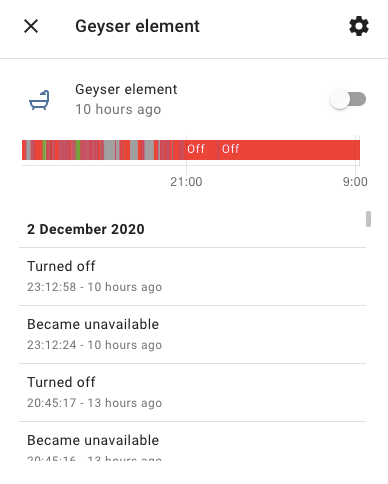 Now the problem is I'm using MQTT, so it misses messages to indicate turn on, or turn off. As I use excess PV power to "boost" the water temperature, this means that it sometimes misses the message to turn on, or (worse) misses the message to turn off.
I've thought about turning on MQTT Retain, but I can see it work against me too - especially since the switch in Home Assistant becomes "unavailable" when the Sonoff loses connection and I am unable to even toggle the switch to "off".
Any suggestions? I can think to try:
Moving it further away from the DB (It is actually in the surface mounted DB at the moment)
Adding another Unifi AP to the garage (where the VenusGX is as well, and one or two other Wifi switches)
Looking for a hardwired way to control these – but I haven't seen any Ethernet powered switches yet.
I guess I could try a Sonoff RF or a Sonoff Zigbee, but not sure those will be any better.
Come up with a software approach to try and compensate for it – i.e. have a "preferred state" in Home Assitant, and the sonoff tries to match it whenever it is available, but also with built in auto-turn off timers on the Tasmota side so that it doesn't run too long at any point. Sounds messy though.