It seems I've finally got to the bottom of why my Fronius Primo on the output of my MP2 disconnects when loadshedding ends: Apparently when the MP2 is preparing to reconnect to the grid it raises the output frequency to the point where all PV inverters will disconnect. Here's the comment from Victron support:
That frequency shifting issue is how it has always worked. Yes it could be better and it will be looked at in the feature. As long as some AC input is present, the units keep "getting ready" to connect as soon as voltage is within limits. This means that to prevent overvoltage on the output, the PV inverters are shut down by periodically raising frequency. We hope to change this in de feature, but if that happens it won't be soon.
So I took a look at the settings of my Primo: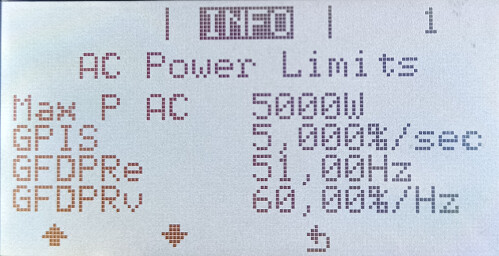 (it starts derating at 51Hz at 60%/Hz, so output will drop to 0W at 52.66Hz)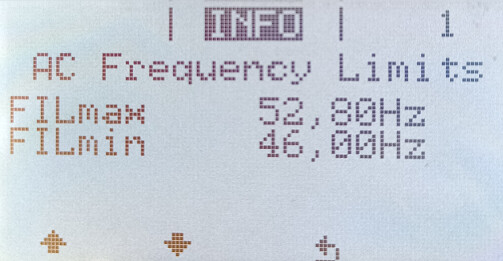 (it disconnects at 52.8Hz)
And then compared them to the ESS assistant settings of my MP2: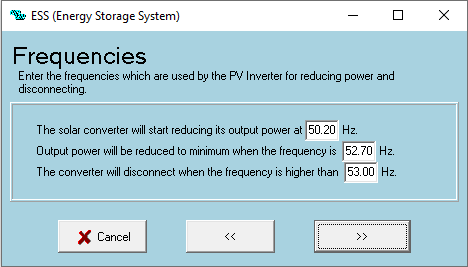 So apparently my MP2 is raising the frequency to 53Hz just before it closes the relay to reconnect to the grid. This causes the Primo to enter state 105 "AC frequency too high" and disconnect. The startup process of the Primo is quite tedious. It goes through a whole self-test and eventually reconnects about 3-4 minutes later. In this time the MP2 is crapping its pants, because the wife saw that the sun is shining outside and has every kitchen appliance on simultaneously.
So I'm scheming that if I change the last frequency setting of the ESS assistant to also be 52.70Hz that the Primo will derate to 0W, but won't actually disconnect. This will allow it to resume full output power faster and the MP2 won't have to carry all the loads for as long as it would otherwise, and perhaps not trip.
Now the question is: What could possibly go wrong if I do this?