Hi all,
I finally got my blue piece installed, but I am seeing what I am assuming is not the correct behaviour. I already let my installer know and they're looking into it, but I thought I'd add it here even if in the end I just add what was done to resolve it.
What is happening is that when I have load only on the Critical Loads side (AC-Out-1) there is also load showing on the AC Loads side between the grid meter and the inverter when in fact this should be 0W with the breakers of those loads switched off and the changover flipped to put them on the critical side.
The below is taken with 'normal' loads and the heat pump running: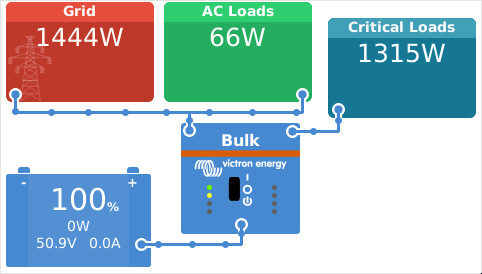 An overlay of the Critical Loads and AC Loads overnight while the baby's heater was switching on every now and then (but there's also load picked up even when it's not on):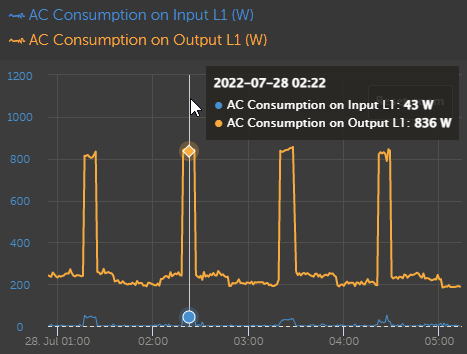 Setup:
MultiPlus-II 5kVa
Cerbo GX
3x Pylontech US3000C
No PV (yet)
ESS Assistant used with "Keep batteries charged" set and External meter used for grid metering
ET112 grid meter connected via USB extended to ~10m
Mains > Grid Meter > Oven & Outbuilding Geyser > Inverter > The rest
If I change ESS to "Optimized (with BatteryLife)" and a 20W Grid Setpoint (95% SOC just to use some battery) then I can see it jumping around quite a bit on the grid (possibly due to this ghost load) and also feeding in more than what I've seen on other installs. I'm not sure what will then happen when PV is added in a couple of weeks' time and how it will react while charging the battery, providing loads and catering for these ghost loads: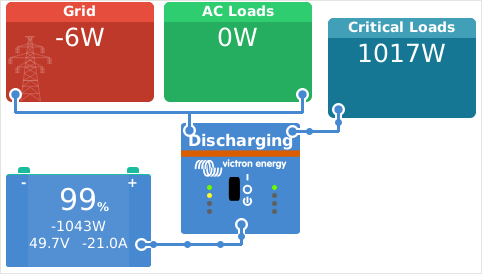 Any thoughts / ideas?
Something that might be worth mentioning is that while the batteries are charging from the grid using the inverter's charger there seems to be a lot of electrical 'noise'. The display on the oven was freaking out until the charging stopped after which it's gone back to normal.