So I've started the build of a 40 kWh battery. These are the specs:
4x16 cells 3.22 V 206 Ah each
Daly smart BMS 500 A
BMV-702
Active balancer 2A
Furthermore the system exists of an MPP Solar hybrid inverter MPI 5K
On MPPT 1 are 18x340 Wp Trina panels in series and
on MPPT 2 are 12x260 Wp old panels that I took of a roof and reused
There were 18 of them but because of the specs couldn't do more in series then 12. They are 60 V Uoc. So I purchased a PCM60X solar charger to connect the last 6 panels. Communication between battery and inverter will be done by a Raspberry Pi with ICC software.
Everything I need is here. I have 2x16 cells connected to the inverter now. They where top balanced before I put them on the inverter and I am the BMS and check voltages every now and then. They remain very stable. I had a Chargery BMS connected before but that thing was way of with the cell voltages. Its been send back to Chargery where they calibrated it again. I didn't use or try it yet but the plan is to make another 10 kWh battery with it so the total will be 50 kWh.
Here is a picture of the current situation: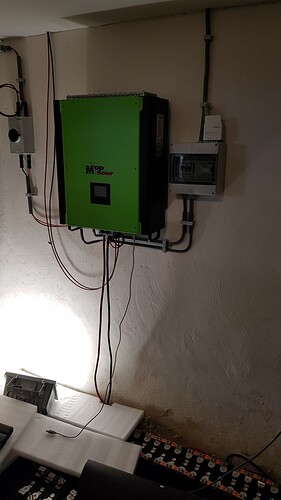 And this is the cupboard where everything will be build in: