Hi,
It seems there is at least one known bug present in version 1.07 of the BSL "Stubby" battery firmware, possibly specifically when used with a Victron. I might have discovered another one (or at least another symptom of the same bug), and would like to find out if anyone else has a similar experience.
I made a detailed post about this over on the Victron Community - but only the one known symptom was confirmed, not the possibly additional one I'm experiencing. I'll summarise the issue below.
The system:
1 x MultiPlus-II 48/5000/70-50 230V
1 x SmartSolar MPPT 250/100-Tr VE.Can
12 x LONGi 450W mono panels
Cerbo GX
ET112 Energy Meter
The system was running without a hiccup for almost a week, when the inverter suddenly restarted. I had a look at the alarm logs and found:

The strange thing is, the BMS was reporting about 99% SoC when this occurred, and there was very little load on the system at the time (max 500W, no apparent spikes).
An hour later it happened again. I then noticed the a "High DC ripple" warning that coincided with both of the low battery alarms: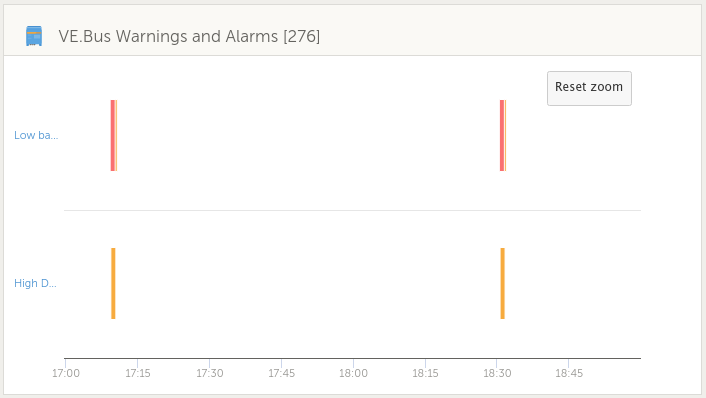 Furthermore, after digging around I saw that the MPPT daily history showed an abnormally low minimum voltage:


At this point I contacted the installer and the did they following:
Checked all firmware versions: the Multiplus-II was on v481 and was upgraded to v490. All the rest was up to date.
Confirmed that the VE Configure settings are in line with the BSL guide.
Although I haven't experienced a "Low battery voltage" alarm since, I noticed the SoC bug that was confirmed on the Victron Community, and now also confirmed with the BSL manufacturer (they indicated a fix is currently being worked on). The SoC jumps erratically when charging: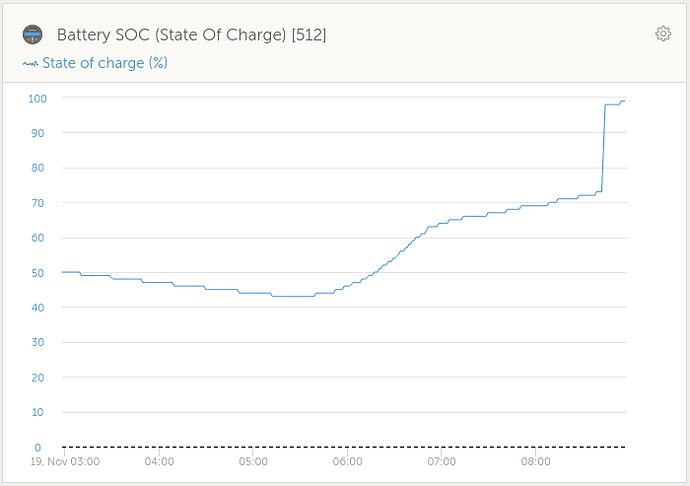 Has anyone here had similar issues with the BSL Stubby BMS? Specifically, has anyone experienced unexplained "Low battery voltage" alarms and inverter restarts? I'm trying to figure out if this is related to the SoC bug, or if something else is wrong.
Thanks!